MADAM MURDER, A Mystery & True Crime Column
Phoebe and The Man
Who Became A Pocketbook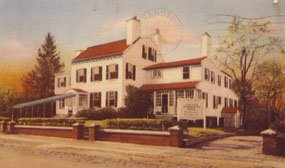 The Sayres of Morristown NJ needed a gardener, some say, or a farmhand, and they turned to John P. Fusier of New York, who ran a boarding house and agency for servants who had emigrated from France. In late April 1833, Samuel Sayre hired Antoine LeBlanc through Fusier. Shortly after LeBlanc arrived and began working, the Sayres and Phoebe were dead. What became of the corpse of this killer may have been gorier than the crimes.
Madam Murder: Phoebe and The Man Who Became A Pocketbook
Murder in Greenwich Village: A Rafe and Masie Story
The street was very, very dark and very, very empty. Suddenly, Masie felt too alone and hustled out the Bedford Street end of the block. Looking behind her down the short block she had just left, she saw nobody, but felt someone was there in shadow. She could see the lights of busy Bleecker Street, where pedestrians were turning into Bedford, and her fears were calmed, but she wanted to know if she had imagined the whole thing.
Crime Fiction: Murder in Greenwich Village (Click)
Nobody Believed the Pig Woman
The 1922 Hall-Mills Double Murder in New Brunswick, New Jersey.
Eleanor Mills was dressed in a red polka-dotted blue dress and black stockings. Her blue velvet hat was beside her body. Around her throat she wore a blood soaked, brown silk scarf. She lay stretched out at her lover's side, her left hand resting on his right knee. Rev. Hall's Panama hat covered his face, as if he were napping in broad daylight. His right arm was under Eleanor's shoulder, as if he could comfort her in death. She was 34 years old and he was 41.
Madam Murder: Nobody Believed the Pig Woman
The Harps, Big and Little
America's first known serial killers in 1798 Kentucky and Tennessee.
Big Harp confessed before dying in 1798 to 20 murders, probably not counting the babies. Estimates are as high as 40, but usually around 30. After two killings, one in Knox County and one on the Wilderness Trail, the Harps left Tennessee in December 1798 for Kentucky, where they killed two traveling men from Maryland. The Harps liked to gut their victims and fill the stomach cavities with rocks to weight them down so they'd sink in a river.
Madam Murder: The Harps, Big and Little: America's First Known Serial Killers
He Wore a Double-Breasted Suit
The Mad Bomber in 1940s New York.
It was November 16, 1940, and the man who would be known as The Mad Bomber walked into the Consolidated Edison office, dropped his toolbox, and walked out again. The small bomb never exploded. The Bomb Squad of the NYPD found no fingerprints or other evidence. It was wartime, everybody was busy, and after a cursory investigation, the case went away. But the Mad Bomber did not go away for 16 years.

Shady Lady: He Wore a Double-Breasted Suit
The Body In The Hudson
The death of the Beautiful Cigar Girl in 1840s New York.
On Sunday, July 25, 1841, Mary wore a white dress, with a blue scarf and a leghorn hat, and carried a parasol. She told her fiance, a boarder in her mother's house at 126 Nassau Street, that she was going to visit her aunt, Mrs. Downing, uptown on Jane Street. Daniel Payne promised to meet her that evening at the omnibus stop on Broadway and see her safely home. Daniel never met Mary at the omnibus stop. Her body was found three days later in the Hudson River near the shore of Hoboken, New Jersey. She had been tied with strips of her own clothing.

Madam Murder: The Body In The Hudson (Click)
She Looked Like Marilyn Monroe
On August 20, 1974, a schoolteacher who lived at 118 Waverly Place, complained of a leak coming through the ceiling of her top floor apartment. She and Mr. Johnson, the super, went up to investigate the source of the leak and found the body. There is nothing quite like New York in an August heat wave. It was 100 degrees. The horse flies had found the body first.